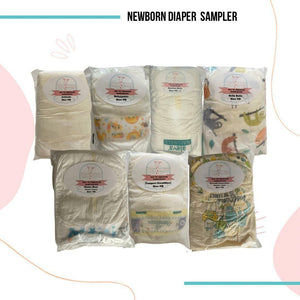 Chez Blaire
Try "N" Discover Newborn Diaper Sampler Kit (Pack of 7)
Regular price
$17.00
$0.00
Unit price
per
Try "N" Discover Newborn Diaper Sampler Kit (7 Diaper Brands)

Newborn Diaper Sampler Kit comes with 21 diapers from 7 brands, packed in 3-packs.
---
Why do we offer diaper sampler packs? Because sometimes the fit isn't quite right. That is, it leaks pee, poop, causes a rash, or just doesn't fit your little one and their range of motion for their size. Why not try a few and see which works best for your baby so you can make a larger diaper brand purchase being sure it will work. Try this before the huge investment of time and money and save yourself a few trips to the grocery/department stores. Add this sampler pack to your custom Sampler Kit order and try out a few different diaper brands. Give the perfect baby shower gift, or save yourself a few trips to the store by getting this delivered right to your house.
Newborn Diapers included:
Attitude Hypoallergenic Biodegradable Diapers 
Babyganics
Bamboo Baby
Hello Bello
Mama Bear
Pampers Swaddlers
Seventh Generation
Your Try "N" Discover Newborn Diaper Sampler Kit comes with a Diaper Scorecard to help you, mom, or dad rate the diapers by brand and score them based on the retail price, diaper fit, absorbency, any irritations that may arise, design/cuteness, eco-friendliness, if it leaks through the top (front or back) or via the leg cuffs and if you would buy it again. There is also room to make notes that apply to your diapering experience. 
Do you want to try a particular brands that aren't included?
>> Customize your own baby sampler kit by selecting individual products or choose from our popular curated Sampler Kits! 
---
Share this Product
---